High Speed Welding Steel Tube Mill Industrial Pipe Making Machine
Yangzhou KRD Machinery CO.,LTD is a manufacturer which specializing in the production of High frequency welded tube mill,cold rolling mill as well as cut-to length line.
Our company pursue excellence, quality of product of after-sales service system, We have more advanced technology and high quality instruments&equipments which imported from korea and japan in the industry .
Our machines are exported to the overseas market more than 17 years.
Because of their own advantage of our products,highly praised by our customers around the world.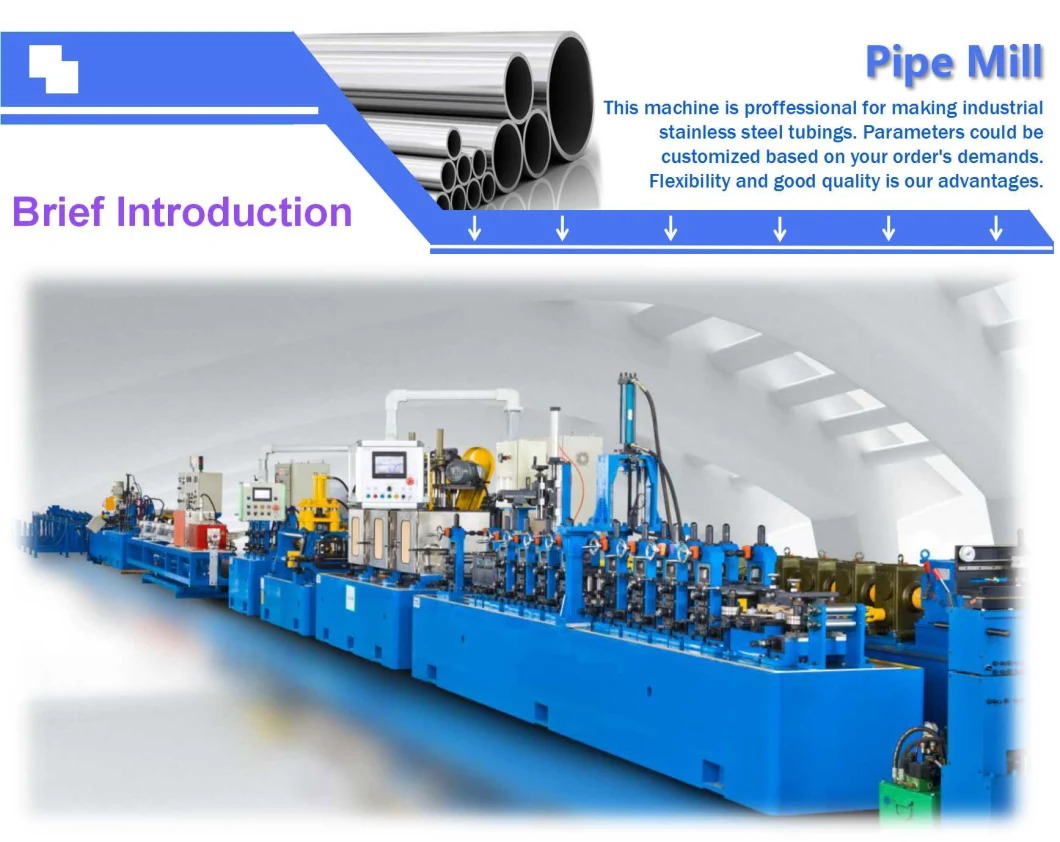 K45/50/60 precision high frequency longitudinal welded pipe production line / pipe making machine / tubemill is designed to produce welded pipes of 13-90mm in OD and 0.8mm-3.0mm in wall thickness, as well as corresponding square and rectangular pipe.
Application Products: GI, carbon steel and stainless steel tubes for metallurgy, construction, transportation, machinery and vehicle industries.
√ High production efficiency, line speed can be up to 120m/min.
√ High yielding, the machine works stably at a high speed, which improves the yielding of products.
√ Low wastage, low unit wastage and low production cost.
√ High accuracy, diameter error is only 0.5/100 of the pipe OD.
Basic Technical Information of Welded Pipe Production Line
Product&yield

Round Pipe

10mm-32mm

Thickness:0.5mm-2.0mm

Square & rectangle tube

10mm×10mm -25mm×25mm

Thickness:0.5mm-1.5mm

Length

6m-12m

Length Tolerance: ±3mm

Production Speed

20-120 m/min

Production capacity

10,000ton/year

Consumption

Mill installed capacity

50 kw

Line Area

45m(length) ×4m (width)

worker

6-8 workers

Raw Material

Carbon Steel coil

Q235B(ASTM GR·D,σs 230)

Width

36mm-150mm

Thickness: 0.5mm-2.0mm

Coil ID

450-520mm

Coil OD

Max 1200mm

Coil Weight

1.0-1.5t
Technical flow
Scrolling up→ Uncoiling → Shear and Welding→ Spiral accumulator→ Forming → H.F. induction welding→ External burr removing→ Cooling → Sizing→ Flying saw → Run out table →Inspecting→ Packing→ Warehouse
Forming process
Round pipe

Cold roll forming process

Good roller design

Square & rectangular pipe

General round-to-square process

Stable forming process

Round to square with turkshead

Good pipe quality, reach same wall thickness with round pipe